Fluoropolymer gear pump
The Fluoropolymer gear pump is ideal for processes using TFE, FEP, other fluoropolymers and highly corrosive products. The Fluoropolymer gear pump provides precise displacement while lowering shear stress, lowering process energy consumption, lowering melt temperature, and increasing output rates.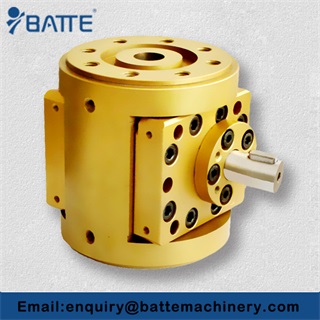 Fluoropolymer Gear Pump Benefits:
Increased life on extruder screw & barrel
More accurate gauge control
Increased output rates
Fluoropolymer Gear Pump
Operating Parameter:
Working Temperature: ≤300℃
Inlet Pressure: vacuum – 1.5MPa
Differential Pressure: ≤120MPa
Fluoropolymer Gear Pump Applications:
This type of
gear metering pump
used for
fluoroplastics, other Pipe, PTFE, Compounding, Pipe , Tubing, Lab linesand profile.

Relative Articles:
◆Melt pump extrusion manufacturing
◆How to choose the best extrusion die?
◆Miniature Rubber Gear Pump Extrusion
◆Precision Gear Metering Pumps