Information about Batte melt pumps gear pumps metering pumps
Metering pump is Batte Company developed after years out of a multi-function products. Metering pump is a rigorous process to meet the various needs of stepless adjustment. The pumps are used to transport liquid (especially corrosive liquids) a special displacement pump.
Hydraulic gear pump is the end of the pump plunger by means of the composition of the working chamber. The plunger in a reciprocating linear motion, that the volume of the working chamber of the pump varies cyclically.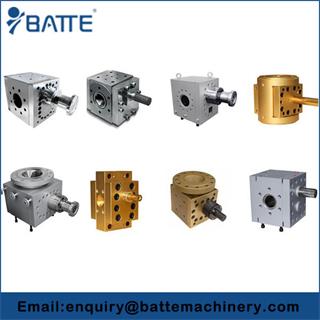 Advantages melt pump is compact overall structure, small size, low noise, energy-saving effect is remarkable, repair facilities. There is no need to build pumping stations. Melt can sneak into operation, greatly reducing the project cost. Batte melt pump can be equipped with all the user needs to maintain active safety based on the control cabinet. The melt pump leakage, leakage, overload and overtemperature affirmative maintenance. The product safety and reliability are improved.
Batte machinery melt pump Co., Ltd. mainly manufacture: melt pumps, gear pumps, metering pumps, chemical pumps, high temperature melt pump, etc., such as the need to learn more about the company's products, please free consultation or message, we will respond to you the first time!
Relative Articles:
◆
How is extrusion gear pump used
◆
What is the use of fixed displacement gear pumps
◆
BATTE Circular Melt Pump
◆
Rotary Gear Pumps
pre:The melt pump in XPS foam sheet extrusion industry
next: Melt pump lubrication