News
Chemical Pumps
Chemical Pumps
are Gear pumps for (viscous) fluids for processes in the (petro) chemical industry with extreme parameters. Batte disposes of a number of leading brands for the optimal solution for your process.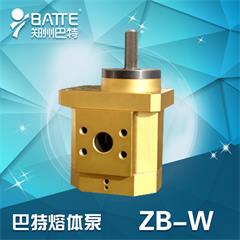 Chemical Pumps applications:
The gear pump is increasingly used in chemical processes for:
Precise dosing of catalysts or additives
Pumping fluids from high pressure reactors at high temperatures
Feeding into destillation columns or thin film evaporators
Discharging viscous liquids out of a vacuum with low intake height
Chemical Pumps types:
Stainless steel pump for the chemical and pharmaceutical industry. Robust and modular.
Also available in heatable
Stainless steel extraction pump for highly viscous media with a low NPSH. The therminox-V is the heatable execution.
Cast iron gear pump for non-corrosive applications.
Robust cast steel pump for non-corrosive applications in refineries and chemical plants.
Gather magnetically coupled pumps: Magnetically coupled gear pumps for transport and pressure building.
Gather DRIP: Dosing pump for pumping minimal quantities of hot, agressive and non-lubricating fluids up to 300°C at very high differential
batte hotmelt metering pumps: Modular gear metering pumps for i.e. PUR, adhesives, varnish, paint, resin, etc.
batte painting application pumps: Metering pumps for smooth and / or shiny surfaces.
HNPM micro pumps low pressure series: Very suitable for high and low viscous fluids. Also as OEM pump!
Micro pumps with EX approved drive for environments with potentially explosive atmospheres.
For light corrossive fluids. Complete with high performance DC precision motor with integrated encoder.
Powerful, external gear pump for greasy media with high volumetric yield and competitive price/ performance ratio.
Leak proof, magnetically coupled internal gear pumps for a vast array of fluids.
Up to 50,000mPas.
Chemical pumps provided by Batte are mainly melt pumps, and standard melt pumps and custom melt pumps are available.