News
melt metering pump made in china
The melt metering pump is equipped with a gear pump on the extrusion line to adjust the extruder speed through the PLC and maintain the pressure stability and orderly increase the flow rate to optimize the feeding process. Widely used in PC, PMMA, PET, ABS, PVB, PS, PP, PE and other high and low viscosity of the material measurement and pressurization.
The shell is made of high quality alloy steel. The gear is made of hardened chrome steel or other high quality metal material. It has the advantages of high efficiency, leakproof and so on. The user can adopt the electric heating method according to the actual needs, the seal can choose the spiral labyrinth seal (dynamic seal) , Vacuum screw seal and special combination of sealed configuration. Melt pump with straight teeth, helical teeth, and patented design of high precision, low pulsation, low temperature rise, low shear herringbone, for different transmission media, the choice of material in the pump, Witt can provide titanium , Chromium-nickel alloy combination of materials. The melt metering pump is installed between the extruder and the head so that the fluctuations in the extrusion direction can be isolated from the nose and downstream equipment.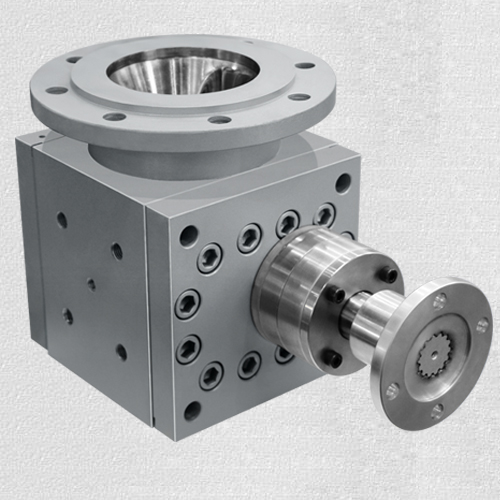 Regardless of whether or not the pressure at the inlet of the gear pump fluctuates, the gear pump can deliver the material to the head with stable pressure and flow as long as the material entering the gear pump is sufficiently filled with the alveolar and ensures that the head is free of ripple, The stability of the entire extrusion system and the accuracy of the product. At the same time, because the melt metering pump is a supercharging device, it can be extruded metering section of the boost function transferred to the gear pump to complete, so as to avoid the extruder in the machine under high pressure work when the power consumption, Large shear force, severe friction, material retention time is long, easy to degrade and other shortcomings, so that the extrusion productivity increased, the extruder wear and tear reduced. In addition, the use of melt pump can also increase the system controllability, reduce material temperature, reduce energy consumption, to achieve linear output.