News
Plastic extruder melt pump function
1. Improve product dimensional stability of Plastic extruder melt pump
By the action of the internal screw mechanism of the extruder, the melt pressure at the head will reach 5 to 30 bar (1 bar = 105 Pa). And eliminate or reduce the pulse of the extruder fluctuations, not only can improve the quality of products to reduce the finished product defect rate, it can save raw material consumption, up to 2% savings in raw materials. The gear pump, through continuous engagement, increases the degree of tooth engagement and continuously and smoothly squeezes the material to eliminate pressure fluctuations. Melt pressure fluctuations, the smaller the thickness of the product will be more uniform and stable.
2.Reduce raw material loss of Plastic extruder melt pump
After the machine is turned on, the machine's nesting time will be very long. In particular, the need for frequent start-up, replacement of raw materials, the use of masterbatch for the production of the situation, often takes longer. Application of gear pump, the effective and faster to the extruder of the indicators of the parameters to achieve a normal and stable value, thereby reducing the consumption of raw materials to enhance efficiency.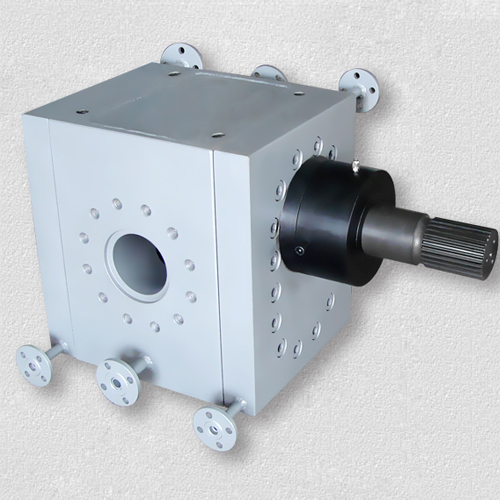 3. pressurized cooling, extend the life of the extruder
After installing the Plastic extruder melt pump, the maximum pressure fluctuation of the extruder is in the pump, which reduces the pressure inside the extruder, the shear strength of the melt decreases, the temperature curve is gentle and the temperature rise is reduced. 4. Reduce the flow and energy consumption, increase production. A few years after the operation of the extruder, the internal screw and the barrel will have a lot of wear between, resulting in its gap is too large, the amount of melt will increase the amount of production will be affected by this reduction The The use of the melt gear pump will reduce the amount of backflow and energy consumption, which means maximizing the throughput of the extruder per unit of time.