extrusion sheet die
extrusion sheet die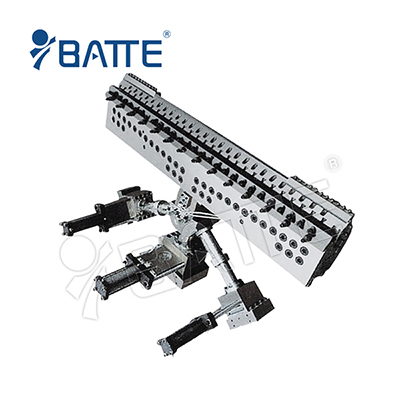 The extrusion die is a push-pull adjustable device with a die lip that produces sheets of 0.1-3mm.
extrusion sheet die Heating method: stainless steel heating rod partition heating or cast copper heating plate outside the district heating. Die lip push-pull fine-tuning structure.
Hangers are used to provide a continuous, unobstructed flow pattern in the die lip Small, spaced-apart adjustment screws work against the resin pressure and up and down bouncing of the metal Twist the die lip to adjust the die gap Cleaner cleaning and a series of runs And fast and easy. Production of 0.15-3mm film and sheet. Applies to: PP.PA.PP.PET.PS.PVC.PC and other materials. Mold width 400-4000mm. Products accuracy of ± 2% or less.
batte company introduced more than 100 new advanced CAD / CAM processing equipment, vertical horizontal gantry machining center and hundreds of other processing equipment, the use of three-dimensional software, you can quickly process a variety of complex shapes of the surface, it is entirely possible Achieve extremely high tolerance requirements. After long-term unremitting efforts and exploration, we successfully developed a variety of single-layer, multi-layer coextrusion mold, the product width of 200-8000 MM. Melt metering pumps, various forms of dissolved mixers, a variety of manual net change, automatic hydraulic screen changer. Die for PP, PC, PMMA, HIPS, PE, EVA, PS, PET, PVC and other raw materials, can produce all kinds of high-quality transparent board, APCP, free foam, crust foam board, pp hollow lattice , PC sunshine board, PVC wave board, special floor leather and all kinds of packaging materials, stationery sheets, blister sheets, optical sheets, pharmaceutical packaging, Lin Mo, Chan Raomo, geomembrane, waterproofing membrane.
pre:pumping pipeline melt pump